Not very long ago, many organizations didn't know what to do exactly with the information they collected. But today, by harnessing modern technology, data has become an indispensable tool to improve business operations and become more competitive. Without it, companies today wouldn't be able to understand their customers or market their products better.
Businesses collect a ton of data, such as customer details and reviews, prospective customers' profiles, partners' contact information, target market data, and commercial transactions, among many others. These can give them insights that will help boost business processes, monitor performance better, and solve problems more quickly.
To be successful in utilizing data, however, you will need a data strategy.
What is a data strategy?
A data strategy is a reference of methods, services, architectures, and procedures for acquiring, storing, monitoring, consuming, and operationalizing data. It is basically a guide for businesses on how to maximize the use of their data to improve business processes.
Every organization's strategy will vary, but all data strategies have common goals, such as:
To define how data will help meet business goals
Lay out how the company will complete their desired activities to achieve their goals
Describe and outline the changes a business needs to make in order to maximize the value of its business activities
Establish a timeline for completing the proposed activities, and define milestones and priorities
Justify the financial costs of monitoring and analyzing data and the benefits the company will reap from them, and use the feedback to increase revenue and monetize the data
Your data strategy isn't just an IT department project. Since a data strategy aims to improve the data utilization of the entire company, it requires everyone in the organization to participate.
To ensure success when creating your own data strategy, answer the following questions: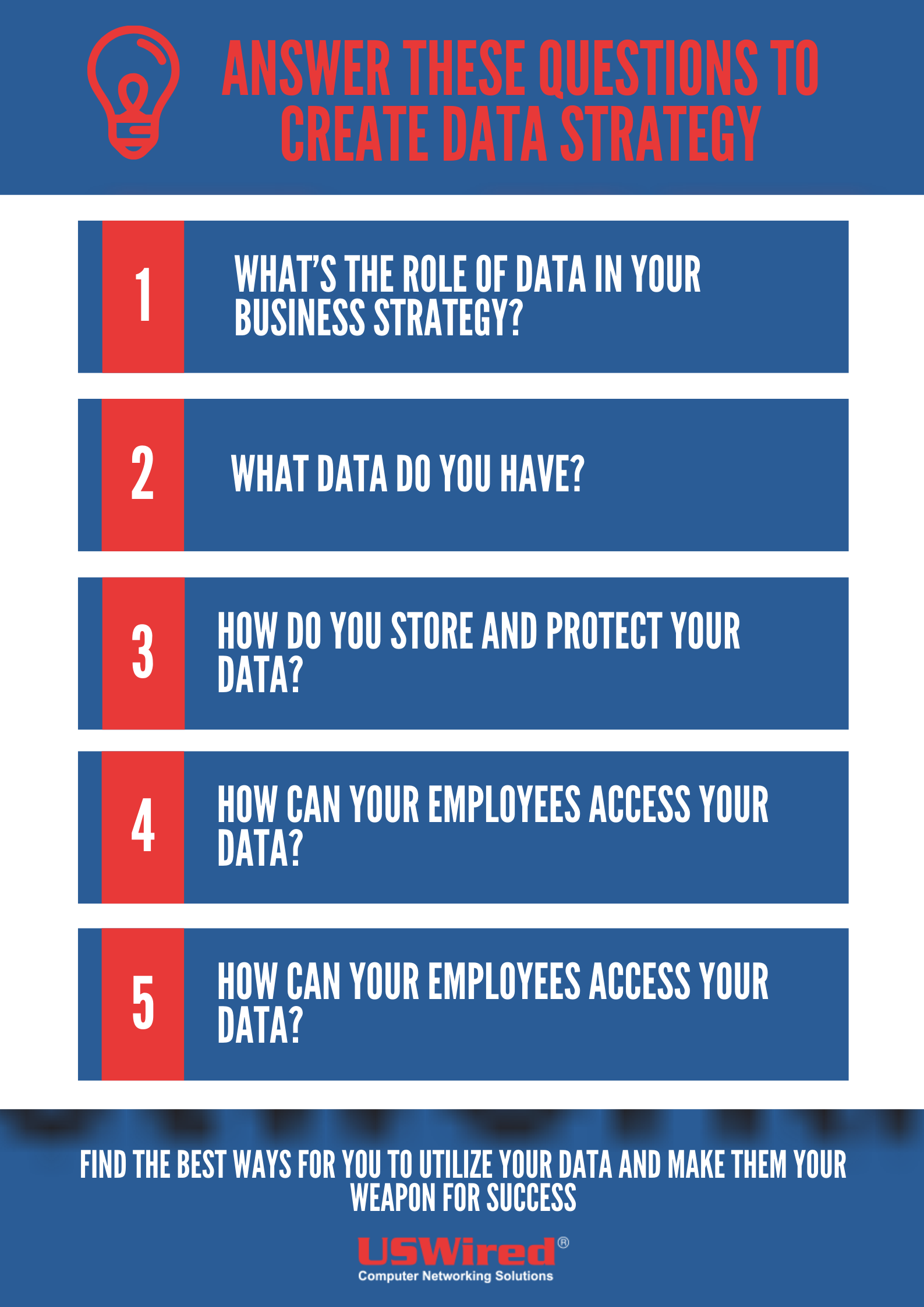 #1. What's the role of data in your business strategy?
Your data strategy must align with your business strategy. Identify your organization's strategic priorities and business goals before identifying the ways data can help improve your processes.
#2. What data do you have?
Determine next whether you currently have the data needed to meet your business objectives. To do this, establish a metadata process to identify and represent the data content in your environment. For a small business like yours, enterprise content management (ECM) solutions can be useful.
Once you use this solution, you may find that you have the necessary data but are not leveraging it to achieve your business goals. Or you may find that your collected data is not enough for you to implement your proposed changes.
#3. How do you store and protect your data?
Your collected data is important, so it's non-negotiable that you keep them in a place no hacker can easily access. You can partner with a managed IT services provider (MSP) to keep your data safe. They can also recommend what kind of security solutions you need and other related concerns.
For businesses in San Jose or San Francisco, USWired offers cloud hosting services so your data can be stored securely in the cloud. Through its data redundancy feature, the cloud makes sure that your files can always be accessible from anywhere in the world, even during disasters like power outages or cyberattacks. And by monitoring your servers round-the-clock for possible threats, USWired can also ensure that no cybercriminal or rogue employee can modify or destroy your data.
#4. How can your employees access your data?
Since data strategy requires everyone in the company to do their part, the collected information must be available for every employee to securely access and use.
#5. How do you make sense of your data?
Data analysis will provide you with insights that can make it easier for you to utilize data. Business intelligence solutions can help you ask the right questions and get the best solutions.
Remember that your data will always be one of the most important assets of your company. If you use them correctly, not only will your workforce become more efficient and productive, but you will also be well ahead of the competition.
Your data has never been more important today. To ensure your success, partner today with USWired. We're a team of IT professionals who will find the best ways for you to utilize your data and make them your weapon for success. If your business is in the San Jose or San Francisco Bay area, drop us a line today!
---